By  Yolanda Valentina
The natural beauty of Turkey's Aegean region is only one of the alluring facets of Fethiye. Built on
the ruins of the ancient city of Telmessos, named in honor of an Ottoman Empire pilot, and victim
of multiple devastating earthquakes – Fethiye has a lot to offer its visitors.
Fethiye is an unknown jewel internationally, only familiar to Turkish families who religiously jet
off there a week or two in the summer, and most recently, to Brits who dash there to escape the
grim English weather.
Here is a snippet of the luxuries of Fethiye:
HISTORY:
Pinara: A visit to Pinara is
synonymous to taking a trip

across the remnants of
different religions and
historical eras. The city counts with an amphitheatre with a        seating capacity of 3000
spectators in near perfect
condition, an agora, an
acropolis and countless
sculptured tombs. The most
famous spot is the "Royal
Tomb" built for an unknown past ruler, which captures the scenes of quotidian life in cities upon its walls.
Kayakoy: If you are up for the thrill of a ghost town, then Kayakoy is the place to go. Kayakoy became uninhabited after 1922 and is now a museum town that reflects the influence of Greek architecture up until the Turkish takeover in the nineteenth century, and is an unfortunate mirror of the destruction caused by the 1957 earthquake in the region. Hurry to Kayakoy, as it is not likely to remain a ghost town in the future because the government has recently announced plans to revive the city – anticipating the construction of a hotel and multiple other touristic amenities.
ADVENTURE
Fethiye does not only have ghost towns

but it has hidden ones as well. Saklikent
is a "Hidden City" concealed by the
second largest gorge in Europe.
Although this area is inaccessible in the
winter due to the snow from the Taurus
Mountains, in the summer and fall, one
can trek the four-kilometer long beauty
of its crafted walls.
BEACHES
Literally called the "dead sea", Oludeniz is a picturesque sight due to its crystalline blue
lagoons where the Aegean and the Mediterranean seas meet. Bolstered by Mount Babadag's height and calm weather, it is
an ideal site for paragliding, scuba diving and snorkelling in
the beach areas. The cost of these activities can range anywhere from $40- $150.
Getting to Oludeniz is very easy and can be done in a plethora of ways. Most resorts offer mini-bus services from their lobbies every hour or so, but another more typical medium is going on a dolmus (Turkish minibuses without formal schedules or stops) that can be taken from the Fethiye
Central Station.
FOOD:

This market is not only renowned for its
top-quality fruits and veggies, but it is also
the optimum place in which to enjoy typical
regional foods such as the "tursu" and the
"gozleme". You can't miss this essential
visit, as it is located in the heart of the city in
Carse Caddesi.
The market's "Fish Restaurants" are also
an interesting concept, as one can go buy
fish at any stall one desires, and have the
fishes be cooked at the restaurant of their choosing. The cost of the meal is contingent upon the rarity and size of the fish, but the price for a meal for two is on average anywhere between $4-$20.
If you desire more Turkish meal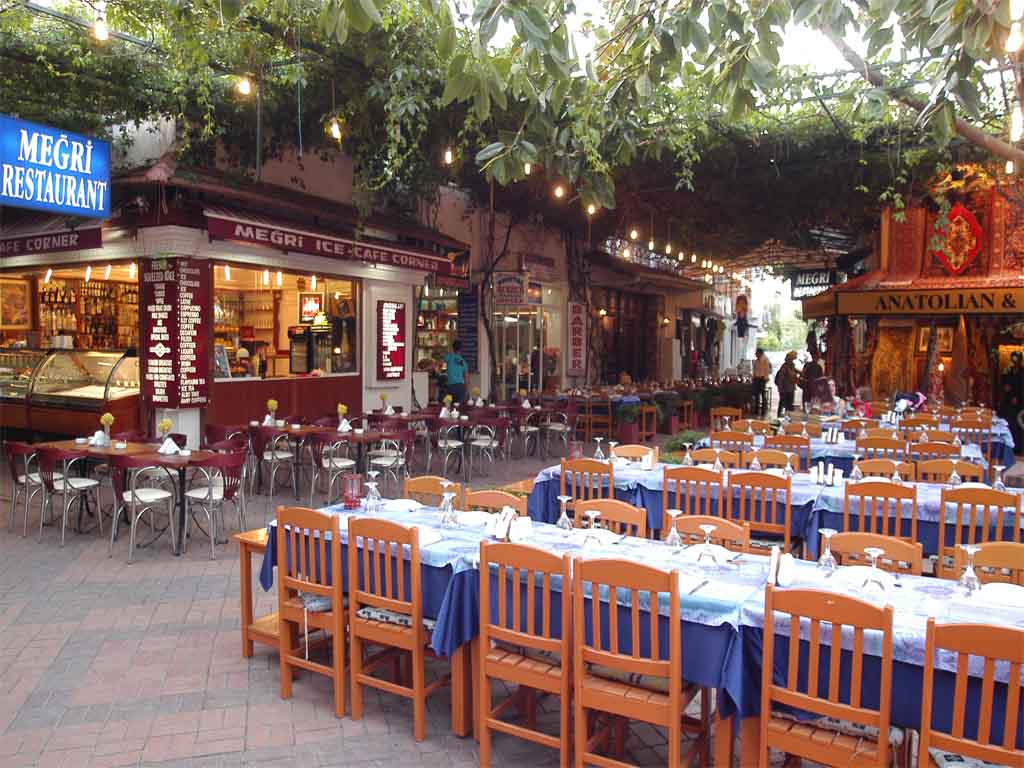 options, Megri Restaurant won't
disappoint, as they are known for
their clay pot chicken or lamb. In the truest Fethiye old-centre fashion, it is situated between a carpet shop and a spice shop, and it has a lovely outdoor space that is perfect to enjoy a summer day or evening.
SPORT:
Sport fans are bound to quench their interest in Fe
where aquatic activities are popular, wondrous treks are ubiquitous and trips on dirt bikes and Jeeps common, Fethiye distinguishes itself from other resort towns by having a football (soccer) team FethiyesportFC. The club is currently in second division, but has had stints in the TFF First League recently and tickets to go watch ranges anywhere from $30 to $200.
Fethiye has something to offer to everyone, and that is why it is becoming a prominent site of luxury travel. What once used to be a hidden peninsula, is now becoming a site of increasingly concentrated international travel. The evidence of its expansion lies in the stats, as more and more resorts are populating the area, and more and more tourists are enjoying this Turkish delight.